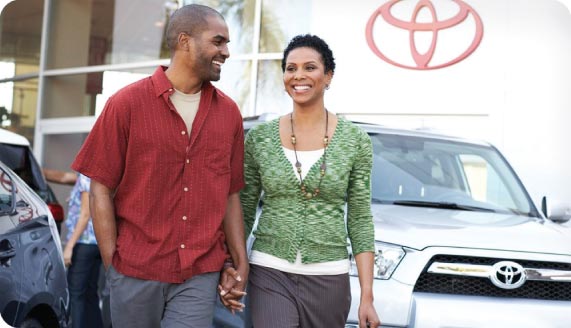 You came to Toyota because you value dependability, fuel efficiency, and affordability, but you might not be aware of some of the other advanced technology features and benefits that contribute to the vast amount of Toyota Love circulating in our country. When you visit our Toyota dealership in Alton and test drive the perfect Toyota for your lifestyle, we're confident that you'll be a Toyota loyalist for life. Here's 12 reasons why:
ToyotaCare: Topping the list of Toyota-owner perks is ToyotaCare, Toyota's maintenance package that comes standard with all new Toyota purchases or leases. You won't pay maintenance costs for two years or 25,000 miles, whichever comes first. Plus, Toyota has your back if you are locked out, stranded, out of fuel, or out of power with their included 2 years of free 24-hour roadside assistance.
Brake Assist: Brake Assist detects sudden (likely panic-induced) braking and attempts to slow the vehicle down quicker by adding break pressure.
Aerodynamic Body Design: Designed to have the lowest drag in the industry, Toyota vehicles take less power (i.e. less fuel) to keep you moving. The Toyota Avalon, Camry, and Prius are especially renowned for their aerodynamic design.
Smart Key System: This feature acts as your own personal valet: As long as the driver has the key in a pocket or purse, doors open at the touch of the handle and the vehicle starts at the touch of the button.
Dynamic Radar Cruise Control: This feature uses radar to measure the distance between you and the vehicle traveling in front of you and adjusts your speed to help you maintain a preset distance.
Head-Up Display: One of the most futuristic tech features on the market right now, Head-Up Display projects information onto your windshield.
Lane Keep Assist: You'll never drift out of your lane with Lane Keep Assist.
Entune: Toyota's premium infotainment package, Entune, includes a large touch screen with a split-screen display, voice-controlled phone, navigation, traffic and weather updates , satellite radio capability, Bing, Facebook Places, iHeartRadio, MovieTickets.com, OpenTable, Pandora and Yelp, plus data services such as fuel prices, sports, stocks, traffic and weather. What more could you want?
Total Human Model for Safety Crash Testing: Toyota leads the industry in crash testing technology; each vehicle is crash tested with injury-simulation software that goes beyond the traditional crash dummy to measure injury to organs, bones, ligaments, tendons and muscles.
Driver Easy Speak: Available in the Toyota Highlander, Driver Easy Speak projects the driver's voice to the backseat passengers using Bluetooth microphones and speakers. You'll be heard loud and clear by rowdy kids. . .or rowdy adults!
Heated Power Mirrors: Melt ice away in an instant with heated rearview mirrors.
American-Made: Although Toyota is a Japanese company, Toyota vehicles are assembled in the United States. Toyota manufacturing plants and Toyota management companies employ thousands upon thousands of hardworking Americans. (Okay, this isn't really a "feature". . . more of a fun fact you might not have known!)
Some of these features come standard in all new Toyota vehicles, and others are available only in certain models or upgraded packages. Simply talk to your Mungenast Alton Toyota Salesperson today and let him or her know the features that matter to you, and we'll figure out which vehicle suits your needs. Please allow us the opportunity to show you how much we care about getting you in the vehicle that's perfect for you and a price you'll want to write home about.