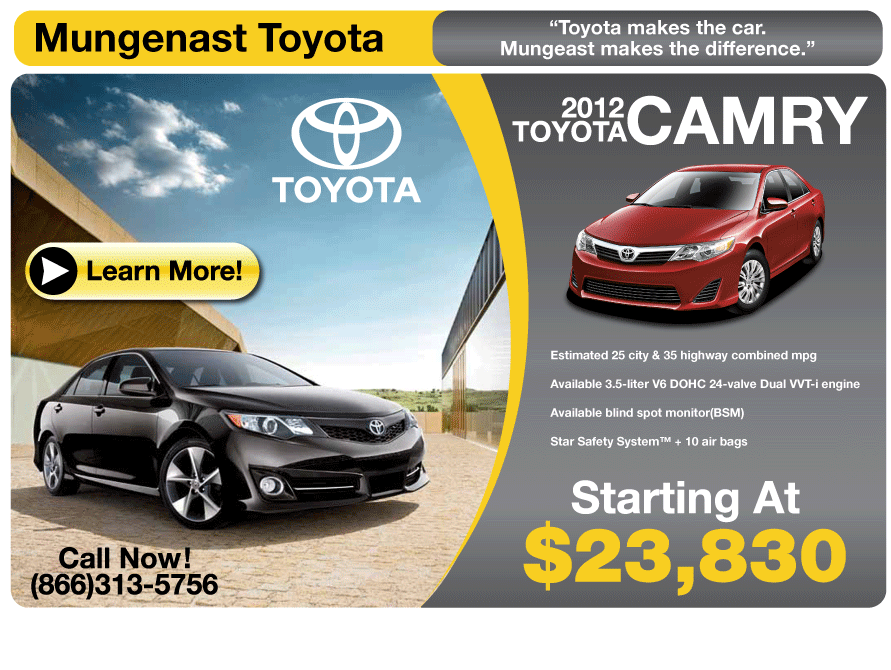 The anticipation is finally over.
Toyota on Tuesday unveiled the redesigned 2012 Camry, showcasing the first transformation of the vehicle in four years.
During the 'first-of-its-kind' reveal, which took place online, the Japanese automaker rolled the 2012 Camry off the assembly line at its manufacturing plants in California, Michigan, and Georgetown, Ky.
The event was one of the biggest in Toyota history partially because the company remained extremely tight-lipped about the car prior to its debut.
Aesthetically similar to the 2011 version, the 2012 Camry did undergo a few changes, both inside and out. But despite looking more stylish and coming equipped with state-of-the-art technology, the new Camry still has the best safety, handling and fuel economy ratings among midsize sedans, with the hybrid averaging 41 miles per gallon of gasoline, a 24 percent increase from previous models.
While Toyota is set to lose its ranking as the world's largest automaker this year due to the devastating earthquake that hit Japan last March and forced the company to slow production, experts believe more than 300-thousand new Camrys will be sold during its first 12 months on the market.
Currently in its seventh generation, the Toyota Camry was introduced to the U.S. in 1983 to compete with the Honda Accord. It quickly gained popularity and earned a reputation for reliability and good gas mileage before becoming America's best-seller in 1997, a position held for 13 of the last 14 years.
Starting at $23,260, the 2012 Camry will hit the streets this October. To find out when Mungenast Alton Toyota-Scion will have it in stock, click here. The most up-to-date information will also be posted to the store's Facebook and Twitter accounts.
All pictures and video of the 2012 Camry can be found on Toyota's website.